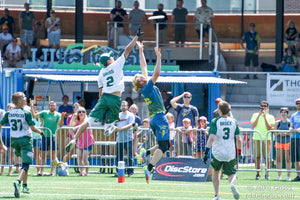 Setting the Stack: Week 14
1. Madison Ready To Clap Back
WATCH: AUDL Game of the Week - Indianapolis at Madison - Saturday, June 30 at 7:00PM/ET
The Madison Radicals are about to play in its most emotional regular season game, maybe, in team history. The Indianapolis AlleyCats are coming off their first-ever win over the Radicals in Week 12 after six straight years of playing the little brother. Understandably then, the 'Cats were quite public with their celebration. Vigorous Twitter flexing ensued. The entire team's mindset has now changed.
"We're done with this mentality that Madison just gets to beat us no matter the situation," said Indianapolis Captain Travis Carpenter. "We're not going to let that happen anymore. We're gonna play with confidence that we can beat them."
The 'Cats know that this challenge will be even more difficult. For one, the game will be at Breese Stevens Field. More importantly, the Radicals were without nearly a dozen rotation players, including Kevin Brown, Scott Richgels, Pat Shriwise, Matt Weber, and more. Many will return this weekend.
"It's definitely going to be harder [this time]," said Carpenter. "We all know that we could have played better in the game that we beat them. We didn't even play our best game. If we play the same game against Madison, we're not going to win. We all know that it's going to take a better effort, better execution, fewer turnovers."
In a strange way, Madison is glad for the losses. They've been so dominant in their division that they've seemed at times to experience the emotional disconnect of the all-powerful, like Dr. Manhattan of Watchmen. They don't have that problem this year. Losing to Raleigh was embarrassing, but losing to Indianapolis should reinvigorate the Radicals with the thrill of competition within their own division.
After the Radicals brutally and repeatedly bashed the AlleyCats on Twitter this week, the team must now perform. Despite their recent win, the Cats have not yet earned the full respect of their more accomplished opponents.
"It's definitely opened our eyes, but we have the confidence still of, come to our house, and beat us in our house before we, not necessarily take you seriously, but come to our house and beat us before you've proved that you've made it to our level," laughed Madison's Colin Camp.
The Radicals haven't lost any confidence. Camp fully expects the Radicals to dominate Indianapolis in the upcoming game.
"In my mind, I've plotted out some jabs here and there if we're up by 5, 10 points this weekend, to say back to the likes of Cameron [Brock] or Keenan [Plew] or something like that," said Camp. "I have stuff ready. I have tweets drafted up already for after the game. I'm ready to go."
Madison's returning pieces will be an incalculable boost. Kevin Brown will return for Madison's offense, and his combination of athleticism and disc skills aren't replicable by any Radicals beyond perhaps Camp and Peter Graffy. With Brown back on the offense, Camp will shift back into his natural role of deep cutter. Graffy may return to the defence, where he prowls the deep space as well as anyone in the league.
However, it's possible that Graffy will stay with the offense for several points. Head Coach Tim DeByl has opened up the offense in recent weeks, allowing singular stars like Graffy and Camp to dominate their one-on-one matchups.
"[Graffy's] kind of infused the offense with some energy, and even himself," explained Camp. "He's been on the D-Line for 5, 6 years now, and at some point it's good to switch things up. You can see him with a new energy in his eyes. It's not like he wasn't playing hard, but it's a new challenge, and it's exciting for him. It's opened up doors for some people and made it a little more of a challenge, which is really fun, because it can be monotonous at times being in the same role over and over and over, year in and year out."
Madison's increasingly more exciting offense will rival Indianapolis' league-leading offense, which just hung 40 points on a hapless Detroit Mechanix. This game could prove to be higher scoring than past clashes between these teams, and both are motivated beyond the prize of first-place in the division, which will in all likelihood go to the victor. No matter the winner, we can expect swift Twitter trolling to follow any on-field decision.
2. Austin's Final Chance
Though the Austin Sol have never beaten the Dallas Roughnecks, it is now a requirement for the Sol to even have a chance to make their first playoff appearance. For the currently fourth place Sol, will not be an easy road. After the Atlanta Hustle beat the Raleigh Flyers last weekend, Atlanta can now win out to hold the third and final playoff spot in the South. However, they will have to beat Raleigh one more time on July 7, and after several voices questioned the circumstances of Raleigh's loss this past weekend, you can count on Raleigh having a better performance in July.
If Raleigh beats the Hustle in July, then Austin will make the playoffs, as long as they don't lose again this season; they have the tie-breaker over Atlanta. The Sol can't control the next Flyers-Hustle matchup, so they are frighteningly focused on the upcoming Roughnecks game.
"If our players don't feel pressure, desperation, then they're not paying attention," said Sol Head Coach Bjorn Schey.
Schey was not upset about Raleigh resting starters: "I think it's great that they found an opportunity for [their young players] on the roster to get some playing time. From our perspective, we have some guys on our team that haven't really played yet, or have only played one game, and I'd love to give them a home game, but we just don't have the luxury because we're not out ahead of anybody."
However, Schey knows that unlike Raleigh, Dallas will bring its best possible roster to the upcoming game. Star Dallas defender Dan Emmons was a vocal critic of Raleigh's performance against Atlanta. The Roughnecks wear their perfect record over the Sol as a badge of honour.
"They care," said Schey. "This is a pride thing. We are [Dallas'] teammates [on Doublewide] and friends, and they've never lost. There is no way they're going to do anything but come at us as hard as possible... It's a lot of things, culturally, and Frisbee being one of them, but all the other cities in Texas have this little-brother thing with Austin. I think 80 percent of the USAU members in Texas are in Austin. And Doublewide is based in Austin. Any chance that Dallas can hold something over Austin in the Frisbee realm is huge. It's a big deal for every ultimate player, from the fan all the way up to Big Jim the owner. Even though we're all friends, they probably enjoy beating us over beating anybody."
Austin will have a full roster, and they have several reinforcements who haven't yet faced Dallas this year. They've recently imported a pair of players from Ireland, Ferdia Rogers and Sam Murphy, who are elite defenders. Corey Mika is a cornerback-converted-deep defender, and he can't be shaken by offensive cuts. Matt Bennett is finally healthy and spinning magic for the D-Line. Those players will have to bolster Austin's defense, which has been subpar thus far on the season.
"You can't put [Andrew] Walch on everybody," bemoaned Schey. "Everybody else just loses focus, or is not willing to be tough enough to stop people from going up the line. That's one of the first things you learn as a defender in ultimate, and one of the hardest things to master, and we honestly just are bad at it."
In fact, Walch and fellow standout defender Jerrod Wolfe will play with the Sol's offense against Dallas. The Sol have been poor at retrieving the disc after an offensive turnover, and Walch, Jerrod Wolfe, and Jeff Loskorn are terrific defenders on the O-Line.
Dallas has been a buzzsaw on the season, though they've only beaten the Sol by an average of 2.5 points in their two 2018 victories. The Roughnecks would be overjoyed to eliminate their in-state rivals from playoff contention, even if it would mean facing Raleigh on the road in the playoffs. Beating Austin badly would feel to Dallas in a way like they're beating Raleigh. Austin's ready for the test.
3. Changing Winds In Minnesota
A week ago, the Minnesota Wind Chill seemed to be a darkhorse pick to challenge for first place in the Midwest. After a loss to a Pittsburgh Thunderbirds team with one win heading into the game, the Wind Chill are now 6-4 and looking to fend off the 5-5 Chicago Wildfire for the final playoff spot in the division. This weekend will largely determine Minnesota's fate.
The switch in fighting from first to fighting for third hasn't shaken the Wind Chill too badly: "It would be great to have the one or two seed and guarantee a home playoff game," admitted Minnesota's Greg Cousins, who has been one of many key Wind Chill players hampered by injury. "Everyone would feel really good about that, but at the end of the day, our goal is to take a run at the playoffs, and championship weekend as well. The starting point for that is not necessarily a home playoff game, but a playoff game. That's our focus, and that's our goal."
They play Chicago at home on Saturday, where they beat the Wildfire by a measly one point earlier in the season, despite Chicago losing superstar Kurt Gibson to injury early in the game. Minnesota will need a better effort, but they are confident that their depth – allowing them to rotate three or four defenders onto Gibson and fellow star Pawel Janas throughout the night – should win out.
If that's not hard enough, Chicago will play Madison in a strange makeup game on Tuesday night. Chicago knows that the Radicals are beatable, even if the wish they'd been the first divisional opponents to topple the champs this season.
"I was a little upset [that Indy did it first], because we all knew that Madison could be beaten, and I was hoping that we would be the ones to do it," said Cousins. "But, you know, we can still do it."
Minnesota will need to finish at least 1-1 against two difficult opponents to stay ahead of Chicago in the playoff race.
4. It's Always Possible In Philadelphia
After smashing the second-place Montreal Royal 27-19 at home last weekend, the Philadelphia Phoenix are only a half game behind the DC Breeze for third place in the East. Those two teams will meet this Saturday in DC for a game that could well determine the final divisional playoff spot.  
"Destiny's in our hands," said Phoenix Head Coach and player Trey Katzenbach. "If we win out, we're in. The big game is our DC game. If we don't win this week, it would take a miracle for us to make the playoffs."
Philadelphia will have its full roster, minus star defender Matt Esser, and they'll need every last advantage. DC has been dominant at home, beating heavyweights Toronto and Raleigh in the process of compiling a 4-1 record at Cardinal Stadium. However, Philadelphia has been incredible when their full roster is available; all but one of their losses has come with at least one of star offensive players Scott Xu, Ethan Peck, and Sean Mott unavailable. During points in which all three players have been on the field together, the Phoenix have outscored opponents 43-13 with elite efficiency rates. Mott is a legitimate MVP candidate, especially if Philadelphia claws their way into the playoffs.
Even if Philadelphia doesn't make the playoffs, Katzenbach has been overjoyed with his team's progress this season. There hasn't been a better story than 19-year old Jordan Ciccarone, who played in his first game this past weekend.
"He's been working hard all year, and his parents came to the game," explained Katzenbach. "He played really well, finished a +5. After the game, he was emotional and nearly in tears, thanking me for getting the chance. His whole life, he's wanted to play in an AUDL game. It showed me exactly why I want to do this, and what kind of players I have, and I'm looking forward to next year regardless of what happens with these last few games." 
5. FlameThrowers Last Burst
I was confident that the San Francisco FlameThrowers would be the West's final playoff team after they beat the San Jose Spiders two weeks ago. However, heading into a back-to-back weekend, San Francisco has yet more hills to climb in order to qualify. The roster will be thin, without team leaders Byron Liu, Greg Cohen, and Jordan Jeffery. Captain Antoine Davis doesn't think it will hurt their chances.
"When we are down a few stars, other team members share the load," said Davis. "I think we play better as a team [when we don't] rely on our top-10 talent. We've become more of a team, and we put people in bigger roles that we think they can succeed in, and it manages to work out most of the time."
First up will be a San Diego Growlers team whom the FlameThrowers narrowly beat last time around. Eli Kerns dominated the Growlers' zone sets, throwing seven assists in the 25-24 victory. Though they won, San Francisco players were frustrated with each other during the victory.
"The reason why last game [against San Diego] was so tight is because for some reason, we were just getting mad at each other," admitted Davis. "There was a lot of yelling. A lot of our team is [about] having fun, we're just a group of friends. We have a fun-and-friends cheer. We try to be all positive, and we went away from that during that game."
Whoever wins this matchup will earn the tie-breaker between the two teams, as San Diego beat San Francisco earlier in the season. That Kerns didn't play in the first matchup between the teams was a huge reason why San Diego won 25-21.
Even if the FlameThrowers manage to topple the Growlers, they will have to face a rested Los Angeles Aviators on Sunday in Los Angeles. San Francisco is also viewing this as a must-win game, as they'll be without a majority of their roster against Seattle in the last game of the season due to World Ultimate Club Championships.
"Both us and Seattle will have our top players going to World's, so there's going to be different dynamics for both teams," said Davis. "We're trying to secure our position [now] because it's going to be pretty awkward, who's going to do what in that game, just a lot of unknowns, and we'd rather not bet on that."
Fortunately for San Francisco, the Aviators have secured first-place in the division, so they won't over-exert their players: "We're not going to push ourselves. If a guy gets injured and needs to sit, needs to rest, we're not going to overly push it," said Aviators handler Chris Mazur.
Los Angeles ensured themselves first-place by beating San Francisco last week. The back-and-forth game ended in thrilling fashion. Los Angeles' offense turned over the disc; however, Eli Friedman retrieved it with a block, and Mazur lofted a last-second huck to the endzone, where Sean McDougall leaped horizontally through the pile to catch the winner.
Though neither Friedman nor teammate Tom Doi will play against San Francisco, they offer the Aviators a unique advantage over San Francisco. Both are teammates of several FlameThrowers stars on the club team, Revolver, and they know the systems that the FlameThrowers run.
"Teams have struggled against a Revolver-style offense for the last eight years, however long Revolver has been a team," said Mazur. "They're so successful, so diligent, so disciplined. having a guy who practices against that style of offense, week in and week out, for the last two years, being able to say ok, this guy's tendency is x, all you have to do is y, and we're going to be successful. You don't normally get that when you play Revolver."
San Francisco will be desperate for a win to make the playoffs, but tired because of their back-to-back. Los Angeles will be indifferent about winning, having already secured first-place, but is the deeper and more talented team. The game is a toss-up and will greatly determine who Los Angeles faces in the playoffs in the West.
---